Balloons for companies, a height incentive
An activity that includes a flight of balloons for companies can be customized in different ways. According to our experience, it is an unforgettable occasion where groups work together and strengthen relationships. An ideal activity for team building or incentives that will be a success.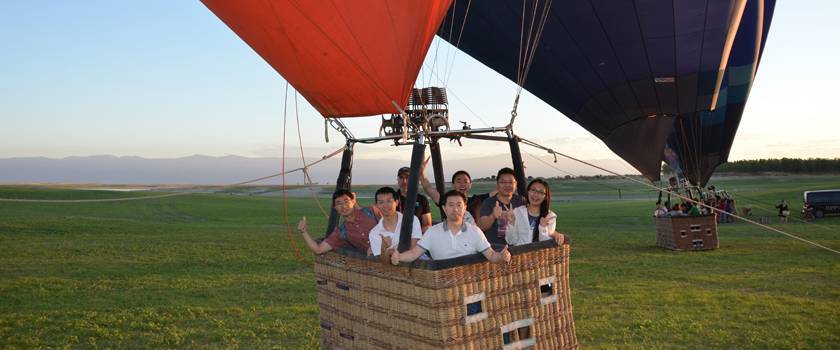 Ballooning is an activity that immediately establishes a bond between the passengers who share it. Those who until a moment before were complete strangers suddenly formed a united group. This is one of the reasons that makes the flight an excellent incentive. The balloons for companies are a very suitable activity for the team building. Laughter is shared with laughter, emotions, discoveries …
Ballooning is an unforgettable experience but if you are surrounded by friends and colleagues it is even more satisfying. When the group is large enough they gather several balloons that take off together and fly at the same time. In this way the personal experience is more intense and you can enjoy an impressive visual spectacle.
Customize the experience
Business balloon activities can be customized in a variety of ways. For example, decorating the balloons or the candles of the balloons with their mark or slogan. Also with activities specially designed to make that day an unforgettable and interesting moment from any point of view. All participants, if they wish, can collaborate in the tasks of assembling and collecting the balloon, making the experience even more intense.
After the flight the group meets to enjoy a brunch, accompanied by cava, followed by a ceremony of delivery of diplomas. Each participant will receive an aerial baptism accreditation as a souvenir of that day. In addition, Always in the clouds, it makes an HD video of the activity that then sends to the participants and the companies.
Business balloons can be hired any day of the week. Necessarily, and for safety reasons, they must be celebrated in a very concrete schedule, in the early hours of the morning, with what remains the whole day ahead for other activities.
Ask for information and quote without commitment in: info@siempreenlasnubes.com