ABOUT US: MEET YOUR HOT AIR BALLON PILOTS
Passion for our work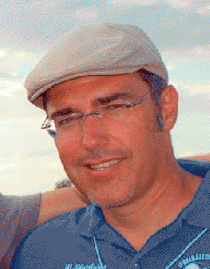 Cristian Biosca
Communication
Cristian Biosca, one of the hot air balloon pilots of Siempre en las nubes—Always in the clouds— , has spent his entire life dedicated to adventure sports and communication in different media. Founder of several newspapers and magazines, has published more than 20 books on outdoor sports, travel and adventure. He has organized and participated in various expeditions all over the world – Morocco, Madagascar Bike, Descent of the Orinoco, double crossing of the Strait of Gibraltar in kayak— He has also participated in international festivals of ballooning in Portugal, France, Switzerland, Austria, Mexico or Madagascar.
In 2009, after 20 years of profession, he left journalism to found always in the clouds where, in addition to being one of the pilots is the one in charge of the Department of Press and Communication. He is currently one of the few Spaniards who can control of gas balloons and has the ability to perform night flights in a hot air balloon
Contacto: info@siempreenlasnubes.com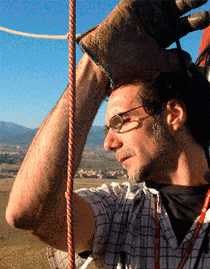 José Luis Calderón
Marketing
Jose Luis Calderon, is responsible for commercial management of the company. Degree in Marketing and Business Management from the ESIC and Bachelor in Business Administration from Florida Atlantic University, is also another commercial hot air balloon pilots and aircraft maintenance technician of the company..
After more than 15 years of experience in the areas of trade and marketing in 2003 decides to give up his comfortable position of Commercial director in the tourism sector to devote himself to one of his dreams: the ballooning. Currently shares the management of Always in the clouds as head of marketing. In sports field has travelled all over the world sharing their two great passions, the mountain and the ballooning in places such as Alps, Dolomites, Yosemite, Greece, Morocco, Mexico, Thailand or Dubai. He is currently one of the few Spanish pilots with the empowerment of night flight with balloon free of gas or hot air.
Contacto: seln@siempreenlasnubes.com
Román Bailón
Design
Román Bailón is a private hot air balloon pilot and part of the chase/ground team of Siempre en las nubes. He has a Diploma from Istituto Europeo Di Design in Madrid. He is passionate about sports, travel and arts and crafts. He has lived and/or worked in the USA, Latin America, Europe and Africa.
After more than 5 years working on product design projects and 12 years developing a commercial activity in Africa, promoting industrial projects, he decides to give a change of direction to his life, pursuing something he is passionate about, hot air ballooning.
He has become increasingly involved in this wonderful world of hot air ballooning ever since he got his hot air balloon pilot license in 2012, to the point that he now spends 100% of his time to this activity. He is currently taking his last steps towards becoming one of Siempre en las nubes professional pilots.
Contacto: reservas@siempreenlasnubes.com

Compañia autorizada por la Agencia Estatal de Seguridad Aérea

Autorización de Turismo Activo TA-40-40 de la Junta de Castilla y León